What is a Finishing school?
The old-fashioned image is of a place where girls learn to become "ladies" by walking around with books on their heads. Although it might have been true a century ago, it is certainly not our philosophy today.
At IVP, we educate by exploring the diversity of cultures, customs, traditions, and etiquette while respecting individual values. There is no one way of living or a universal rule for every situation.
Madame Faillettaz, the school's founder, once said, "You are ready to communicate meaningfully when you realise that differences in opinion are natural. Education and good manners are about finding consensus." We believe in showing courtesy to others and ourselves through self-respect, a pleasant appearance and effective communication – essential skills for finding the right balance in everything.
Good manners and politeness are always about being natural. We try to teach that etiquette is more than elegant gestures and a variety of cutlery; it is also about how people feel in your company. In this ever-changing world, it is also essential to remain flexible and, at the same time, well-organised.
Madame Neri, our principal, says: "We should not call it a finishing school but rather a `starting school` as we start our students off on a path where learning never ends."
Upcoming courses and dates:
Full course: 6 weeks – ladies only
Full course: Sunday June 18th to Friday July 28th
Part 1 (3 weeks): Sunday June 18th to Friday July 7th
Part 2 (3 weeks): Sunday July 9th to Friday July 28th 
Full course: 5 days – available for everyone
Monday April 24th to Friday April 28th
Monday June 5th to Friday June 9th 
Friday August 4th to Tuesday August 8th 
Monday October 23rd to Friday October 27th 
Full course: 5 days – available for everyone
Monday May 1st to Friday May 5th 
Monday October 30th to Friday November 3rd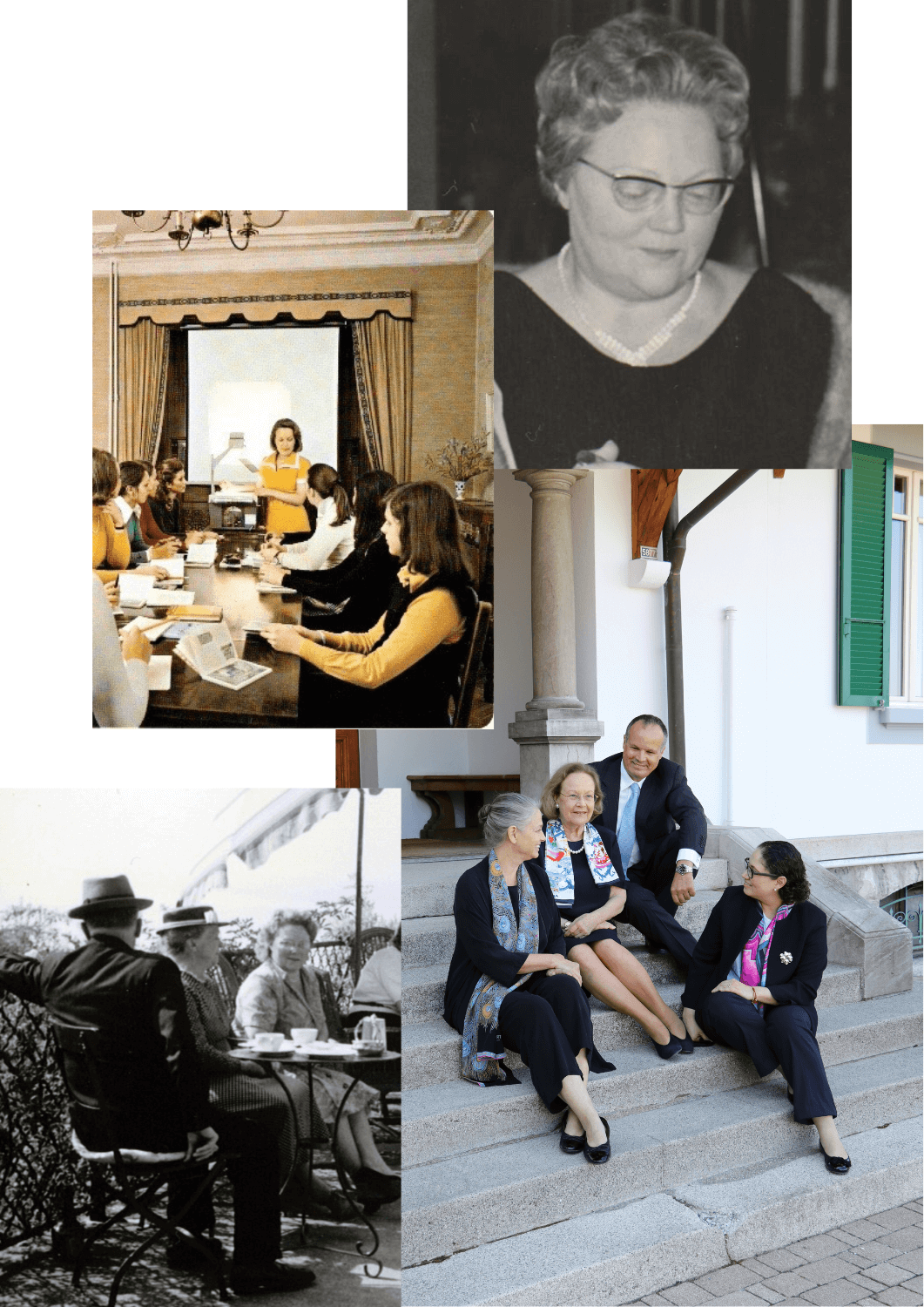 A Three Generation History
For nearly 70 years, Institut Villa Pierrefeu has been a leader in teaching international etiquette and protocol to students from around the world. In that time, more than 4,200 people from 120 countries have passed through our doors on their way to successful careers in business and society.
Founded as a finishing school in 1954 by Dorette Faillettaz, the institute was originally named "Bleu Leman" after Lac Léman also known as Lake Geneva.
Madame Faillettaz was the daughter of the first female journalist in the French-speaking part of Switzerland, and she was keen to give young women the tools they needed to manage their careers and run a home, while also teaching them about the cultural differences they might encounter in the world.